Welcome to Waddell & Mackintosh Estate Agents
Here at Waddell & Mackintosh Estate Agents we pride ourselves on the personal service which we provide to our clients, throughout Ayrshire and beyond.

What Makes us Different and Why Choose Waddell & Mackintosh Estate Agents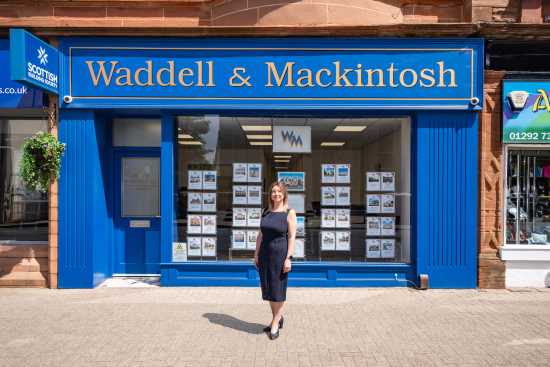 Unlike conventional estate agents, we are able to offer you a far more comprehensive, all round, start to finish service, catering to both your estate agency and conveyancing requirements. We appreciate purchasing, or selling, a property can be stressful. Therefore, we look to take the stress out of the full process by providing you with an end to end service, which cannot be offered by a standalone estate agency.

Not only can selling a house be stressful, it can also be an expensive process, and whilst certain online estate agents offer "no commission", at the end of the day, they charge a fee. Whilst undertaking conveyancing work, we often receive fee invoices, from both online and standalone estate agencies. Therefore, from experience, we know Waddell & Mackintosh are able to offer a full end to end service, for both your estate agency and conveyancing needs, often for less than the price which you would be charged by a standalone estate agent.

Owing to the fact our estate agency is part of our wider business, you have the assurance Waddell & Mackintosh, as an established firm (founded in 1893) is subject to operating under a professional code of conduct, and regulated by the Law Society of Scotland; whereas, standalone estate agents are only subject to a voluntary code of conduct.

Our Service
Together with marketing the properties of our clients at our local offices, we also highlight properties in rightmove.co.uk, at a highly competitive inclusive price. Furthermore, we also offer an out of hours, inclusive of weekend viewing.

Our Estate Agent is Angelika Wilson has over 28 years of retail expertise. She can be relied upon to provide a professional , bespoke service encompassing your initial enquiry, promoting your property and negotiating the best price for your property sale.

Our estate agency is based at 29 Ayr Street, Troon, KA10 6EB, and Angelika and her team can be contacted on 01292 314922.

Please do not hesitate to give Waddell & Mackintosh Estate Agents a call, for a quote, if you are considering selling your property.